When Packing for Your Move BE ORGANIZED!!!
Start packing items you won't need right away first. Make sure you
take the time to label boxes clearly on two sides with room and detailed contents–it will make unpacking so much easier. Start packing early, make sure you allow enough time, it will probably take longer than anticipated.
Make a small box that contains all prescriptions, and other medications or necessities to be kept with you on moving day.
Keep all legal and important papers in one box that you will keep with you at all times.
Go through and eliminate items that you don't need anymore. There are many options these days for items your family may not have a use for anymore, such as: Turning Point, St Vincent de Paul Society, Salvation Army, and other Thrift Stores. Many of these community service organizations offer receipts, that you can use as donations on your taxes.
When packing small pictures, it is best to use smaller boxes that are taped well on top and bottom. Wrap each item with packing paper and be sure to stand upright in box that is lined well with paper. You can save money by using old newspapers to line top and bottom of your boxes. Be sure to wrap items individually in packing paper, otherwise, the print from newspaper can rub off on keepsakes and dishes and damage them.
Now on to the kitchen! This is a room that will probably take you a while. Remember to pack boxes by the appropriate size, so they can still be carried and the box will hold the weight. Dish barrels are suggested for all china and crystal sets, they are the sturdiest because they are double corrugated. Again, just like pictures, dishes are strongest when packed on their edge—do not lay flat. Wrap individually and keep like items together. Keepsakes can be wrapped in bubble wrap or packing paper, line top and bottom of boxes well with paper.
Finally, when you have boxes packed and ready to go, you might consider storing them in your garage, if there is room. Line them up according to room, so if you decide you need something it is easy to get to. This will also help keep them out of the way when the movers come in to get the bigger items out of rooms in your house.
Packing Materials
We carry a full line of moving boxes & packing supplies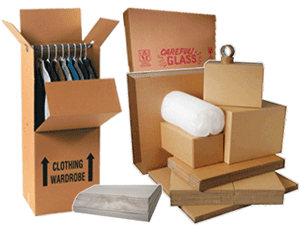 including: tape, newsprint (packing paper), bubble wrap, packing peanuts, etc… We carry a full line of moving boxes & packing supplies including: tape, newsprint (packing paper), bubble wrap, packing peanuts, etc…
BELOW IS A LIST OF BOXES & PACKING MATERIAL:
SMALL BOX ——1.5 cu.———16″ x 12″ x 12″ (Books, Records & Small Breakable Items)

MEDIUM BOX —-3.0 cu.———18″ x 18″ x 16″ (Bulky Items, Clothing, Electronics etc…) 

LARGE BOX (t)—4.5 cu.———18″ x 18″ x 24″ (Lamp Shades, Clothing. Linens) 

LARGE BOX (w)–4.5 cu.———24″ x 18″ x 18″ (Blankets, Clothing, Decorations, Bulky Items) 

DISH PACK BOX ——————-18″ x 18″ x 28″ (Glassware, Fragile Dishes, Fine China) 

WARDROBE BOX——————-24″ x 20″ x 46″ (Hanging Closet Clothing, or Large Items) 

MIRROR BOX–(4pc)—————-30″ x 3.5″ x 40″ (Fragile Mirrors, Pictures, Artwork) 

PACKING PAPER (newsprint) 25# Bundle (Wrap Fragile Items, Cushion Boxes) 

BUBBLE WRAP–3/16″————–12″ x 175′ (Wrap Fragile Items, Layer Boxes) 

PACKING PEANUTS—————–20 Cubic Ft. (Fill Voids In Boxes For Great Protection)

CARTON SEALING TAPE———–2″ x 110′ (Seals Boxes Tight & Right) 
TO ORDER BOXES & RECEIVE FREE LOCAL DELIVERY CALL: 586-792-1000